Volunteer with MPRRC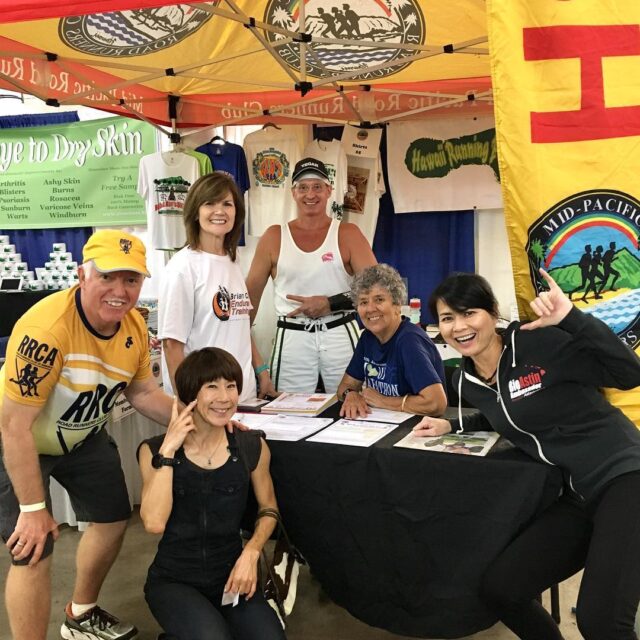 Volunteer Descriptions:
In order for our organization to continue to put on races in the community we need volunteers. There are a number of ways we need help to include:
Expo Booth: Staff an Expo Booth to promote MPRRC membership and hand out swag and information.
Aid Stations: Help give out water to race participants during the race.
Course Marshalls: You will be assigned to a specific area or intersection to guide runners and halt traffic.
Finish Line: Assist runners at the finish line.
Packet Assembly: Report prior to race day to assemble race packets.
Post Race Refreshments: Prepare and set up post race refreshments for the runners.
Race Registration: Check in runners at packet pick-up day and register runners for the race.
Race Day Registration: Check in runners who missed packet pick-up and register runners for the race.
Load Equipment: Load necessary equipment into trucks at the Club storage locker prior to race day.
Unload and Set Up Equipment on Race Day: Report on race day to to unload equipment, set it up, and place equipment along the course for aid stations. After the race, collect equipment on the course and load everything into trucks. Return to the storage locker to unload and store all equipment.
Traffic and parking control: On race day direct participants to proper parking areas prior to the race, assist participant departure after the race.
Photography: Take pictures at the race and upload them to our MPRRC Facebook page.
How to Volunteer
You can sign up to volunteer online for individual races directly on the Runsignup.com race event page. There is a volunteer link on the left panel of each race event page on Runsignup.com. Check out the MPRRC race schedule and click on the available registration links to see volunteer opportunities.
Upcoming Volunteer Opportunities: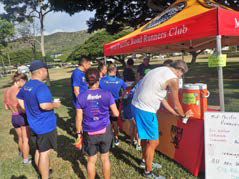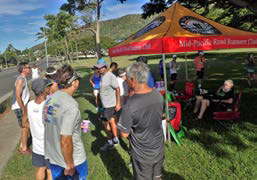 Triangle Park Aid Station
Getting ready for the Honolulu Marathon, a fall mainland event, or just training hard every weekend? We've got you covered! MPRRC will set up a free aid station at Triangle Park (also known as Fort Ruger Park & Operation Red Wing Medal of Honor Park) on the marathon route on certain Sunday's July through November. We will need volunteers to help out so choose a weekend to do your long run or walk on Saturday and come support your fellow mileage loggers on Sunday morning! Check out the volunteer schedule (and sign up) at
https://doodle.com/meeting/participate/id/bmwVGXGe

The aid station will set up to open at 6:00 a.m. with cold water, Gatorade, lemonade, and some treats. All are welcome to stop by for a drink, refill their bottle, get a treat, and a rest before starting up again. Closing times will vary according to the month and stay open a bit longer as training run mileage increases. First set up is Sunday, July 24, 2022, 6:00 a.m. till 9:30 a.m.
Check out the Race Schedule and volunteer on Runsignup.com:
Volunteer Contacts
For questions on how to volunteer please contact: